HOME ASSESSMENTS
A home assessment conducted by a qualified occupational therapist can:
Assess a person, their activities and the environment
Identify a person's risk of falling
Identify current and future accessibility barriers
Assist in planning for hospital discharge following injury, disability accommodation, and aging in place
Educate a person, family, and caregivers in safe methods for bathing, toileting and other activities of daily living
Recommend caregiving services, meal preparation and delivery services, yard care services and more
Recommend mobility aids and assistive devices to increase independence and safety
Recommend home modifications including structural changes to bathrooms, entrances, and additions.
Assist a family in determining if they should modify or move.
ACCESS MATCH - OT Home Assessment Tool
ACCESS MATCH- OT Home Assessment Tool s a web-based assessment tool for registered occupational therapists who have been screened for assessor eligibility and trained in the ACCESS MATCH Home Assessment Tool.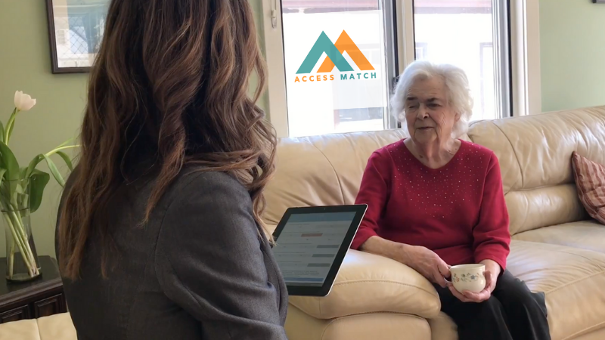 An occupational therapist is a regulated health professional who is uniquely positioned to conduct home assessments. With a university degree (now a Masters program in most provinces) under a department of rehabilitative medicine and with practicing knowledge of progressive disease, disability, and age-related changes, an occupational therapist understands the physical, psychological, cognitive impact that these conditions have on a person, their tasks of daily living, and their environment. Using a person, environment, (PEO) occupational therapy model of practice, an occupational therapist is the health professional best suited to conduct a home assessment.
For more information on the ACCESS MATCH OT Home Assessment Tool or on how to access an OT to conduct a Home Assessment please email info@enablingaccess.ca or call 204-475-0433 ext. 1